Farewell Summer!
This is a Sponsored post written by me on behalf of American Frozen Foods Institute and the Frozen Food Roundtable for SocialSpark. All opinions are 100% mine.
Farewell summer… The kids are going back to school and we'll soon be back to our normal routines. Gone are the days I'll wake up with a little tow-headed kid wrapped around me and gone are the days of being naughty and allowing the oldest  to stay up late to watch Uncle Buck.
MY LATEST VIDEOS
In my family we're all about fun and farewells. So instead of just sending the kids back to school and getting on with life as usual, we had a Farewell to Summer party!
The plan was… ROLLERCOASTERS. I mean, what's a better way to end summer than to give the kids their first ever ride on a real rollercoaster? Nothing. Because there's no better way to say goodbye to something you love as much as summer than screaming your face off with a dozen strangers.
And since I've got the whole gluten free thing going on and no choice but to stick with it, it only made sense to pack up lunch for all of us to share that was completely GF. And since time was of the essence (I was whipping up lunch for the next day around 11PM the night before – ack!) I used a lot of the frozen goodness I had stashed in my freezer for our meal.
Starting off with frozen foods when hosting a get together like this can make things so much easier. I like keeping a variety of frozen veggies on hand simply because I'm the type that allows fresh to spoil far more often than they actually get used and eaten.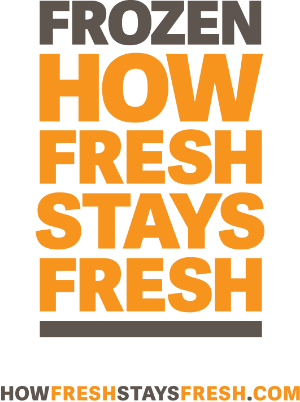 Same thing goes for fruit. If I buy a carton of strawberries chances are I'm not going to eat them all by myself and some will go bad. BUT I can have a big bag of frozen strawberries to thaw as I need them. It makes things simpler and to be honest (again) I feel so, so badly when I let food go to waste. So for me, frozen fruit means less guilt :) Plus when you look at fresh vs frozen it just makes sense besides the wasteful and budgetary – it plain tastes good!
It's so nice to be able to do like I did and have everything you need ready to go for a fab picnic or tailgate without ever having to leave the house. And since I started so late and live so far from a grocery store if I didn't have my freezer stocked I would have been up until 3 in the morning just getting my ducks in a row. And this isn't the only reason I'm keen on frozen foods, learn about the benefits of frozen foods here.
So I busted out some chicken breasts and thawed them in the microwave to whip up a quick chicken salad, tossed a small ham in the fridge to thaw, grabbed a bag of veggies and rocked out a GF pasta salad and brought out all of my frozen fruit to make a fab frozen fruit salad. It was quick, it was painless and it was delish! In the end, the frozen fruit salad stayed home because I just didn't really think about how it wouldn't stay all that frozen in an ice chest after a few hours (in my defense, it was really late, people!)
And it just goes to show you that frozen is a great way to go when feeding the masses, it's not like anyone even thought to ask if anything was from frozen foods because you just can't tell! And here's why — Frozen: How Fresh Stays Fresh.
But back to our Farewell Summer party – it was a blast. I only rode two roller coasters and both in the dark because I'm kind of a sissy BUT I rocked that carousel like nothing you've ever seen! We all had a great time and I think it was the best possible send off we could have had for summer. It's definitely one that'll go down in the Murray family history books!