Don't Break Your Back for Your Kitties!
This is a sponsored post written by me on behalf of Purina for IZEA. All opinions are 100% mine.
Hand to heart I buy Tidy Cats litter loyally because it's the only thing I have found that works and works well. It tackles the nasty smells my cats can produce and it doesn't have tons of dust that send me into an asthma attack.
So the other day I was at the store and there were only two things on my shopping list… cat litter and persimmons. The first thing I went back for was the litter because even though I only had 2 things on the list, I knew I'd be purchasing at least 20 things. (Can you believe I worked in marketing for ages and I'm still such a sucker for product placement in stores?)
MY LATEST VIDEOS
So I'm at the back of the store and it is abnormally crowded in the pet section. And I know that I'm about to look so stupid so I kind of lurk around looking shifty and waiting for these people to figure out their business and move along. I swear there were probably 30 people in the entire store with 12 of them hanging out with me by the cat toys.
And finally I just couldn't wait any longer and I decided that I was just going to grab my litter and be done with it. Now why would I be so embarrased about this? I mean, I'm not easily embarrased. It's because when I try to get that 40 pounds or whatever into my cart that thing slips away from me and goes crashing into whatever is across the aisle from me and I'm grunting and making strange noises of exertion because I am a weenie.
And the whole time I'm doing this I see the Tidy Cats Lightweight sitting on the shelf right next to what I'm grabbing. But it's not what I have used the past umpteen years so I'm sticking with my regular Tidy Cats, thank you! I did get my litter into that dangum cart and red faced I walked to go buy a few things that were on my list that I totally didn't need.
But then, like magic a few days later I get asked to check this stuff out and let you know what I think about it… So here is the deal. It's pretty much the same Tidy Cats your kitties have grown to love to scratch around in for far longer than necessary and kick all over your floor for ages but, wait for it, it's lighter.
I headed out to Dollar General and got an 8.5lb jug of the stuff and was surprised to find that it was equal to the 20 pound tubs surrounding it. And the last one on the top shelf way back in the back, but I was getting it. I asked a kind employee if there were any tall people working (as she was even shorter than me) because after a few minutes of serious deliberation I decided climbing on the shelves was a really bad idea.
This chick who was probably 5'2″ had to get a stepping stool and use packages from around to smack it toward herself and I could tell, she was surprised at how light it was. We both were, really. So this itty bitty thing grabs it so easily and hands it to me and it's like a lightbulb went off as I chucked it right into the cart like I'm Superwoman or something. This is pretty awesome. I don't have to try to raise 40 pounds above my head to get it into a cart that is skittering across the aisle! Why am I so adverse to change? Change can be good!
So back to the fact it is the same thing as your normal Tidy Cats litter you've grown to love but lighter. And to prove that to you, I'm giving away 5 coupons for a free 8.5 pound package of Tidy Cats Lightweight by Purina at Dollar General. You can test it for yourself and see that what I say is true!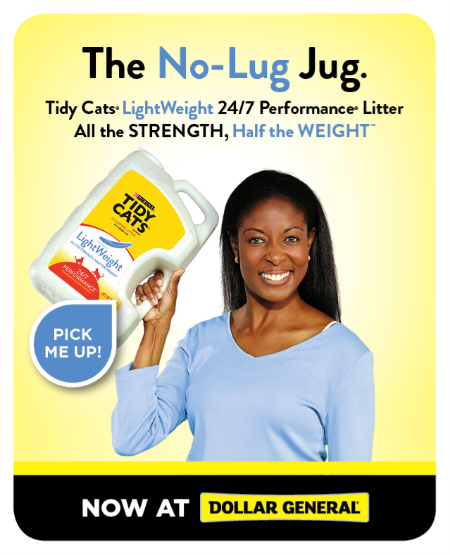 To enter, just leave a message on this post and I'll pull names out of a hat and 5 of you will get some free cat litter to try out! I swear you'll love it as much as a person can love cat litter ;)