Aggie Loves an ALPO® Snack!
This is a Sponsored post written by me on behalf of ALPO® Brand Dog Food for SocialSpark. All opinions are 100% mine.
My Aggie isn't exactly a little girl. She's over 50 pounds of absolutely lovable mixed breed and she's getting older. Where I was once able to feed Miss Aggie Aggie just once a day, the doc has suggested that feeding smaller meals several times a day would be much better for her.
So these days we get up and go eat breakfast. A little bit later we have a light lunch. And can't forget the afternoon snack, supper and the before bed snack. Now most of her snacks are what I'm having. I'll get us both out some baby carrots or I'll half an apple and we'll split it. But I think lunch must be her favorite because she gets a little bit of ALPO® wet food.
MY LATEST VIDEOS
Normally we eat in the dining room but on this day I opened up her can of food in the office so I could try and snap some pictures with the best light in the house of my gal enjoying her meal. Here she is smelling the air because she knows something is up!
You know how sometimes you open a can of dog food and it looks so nasty and nothing like the image on the can? Not here! What you see is what you get!
When Aggie gets ALPO's variety dog food she will lick her plate, or bowl, clean. That thing gets shoved all around the room as she walks and licks and then goes around smelling the floor to be sure that nothing wayward missed her mouth.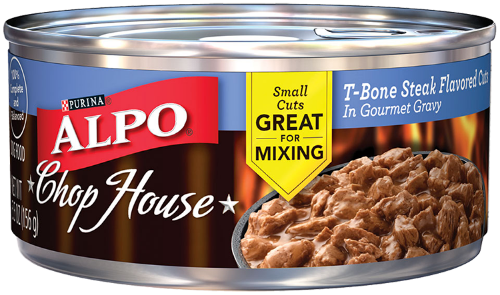 And now I can get these little 5.5 ounce cans perfect for a light lunch for my gal. No more opening cans and wrapping the tops with foil and then pulling it out of the fridge only to have to let it warm up (my old gal has some sensitive teeth!) and then feed her. That little scenario there is ridiculously irritating for me because she runs from the kitchen to me, from the kitchen to me, from the kitchen to me. Like she's saying "HEY! You up there with the HANDS! My food is up there and I'm down here! Did you forget? Is it time yet? Can I eat now? How about now?"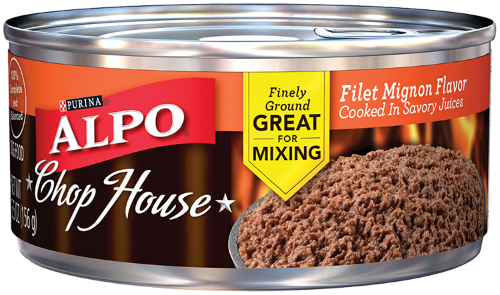 With all of Aggie's favorite flavors in convenient 5.5 ounce cans, like Filet Mignon, Rotisserie Chicken, Cuts with Lamb and T-Bone Steak she's going to be a very happy girl come noontime. And since I know that ALPO® IS 100% complete and nutritionally balanced Miss Aggie's light lunch isn't only tasty but good for her.
And that is one satifsfied and healthy, happy girl :)
To keep up with what's happening follow ALPO® on Instagram. and ALPO's Facebook Page.